So, this week has been Spring Break. I couldn't wait for Spring Break! However, it has definitely been a week I have not wanted to repeat…
I am not brave enough to take all three kids out in public by myslef. So, that means we would be at home everyday. Which wouldn't have beenso bad if the weather had been nice. But, unfortunately a nasty cold front came thorough bringing a ton of rain. So, by Wed night I was need a stiff drink and a straight jacket!
So, I googled toddler activities and came up with a few good ones. The Craft Crow is a fabulous blog where I found the idea for bathtub paint.
I mixed the following in a muffin tin:
2 T Corn Starch
1/3 cup liquid soap
couple of drops of food coloring
a splash of water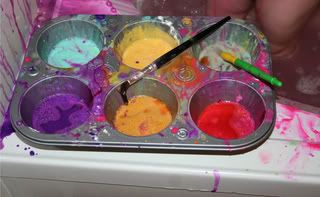 WARNING- Do NOT use Wilton food color paste! It stains their bodies. Emma looked like a pink oompa loompa! The food color drops did not stain, so use those!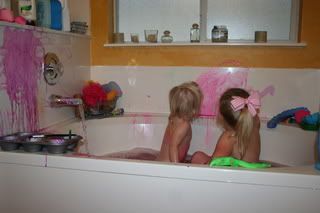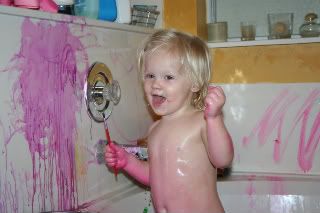 Its was a mess to clean up, but well worth the 45 minutes of play time it bought me!
Also, we made an old favorite: Peanut Butter Play Dough. My mom used to make it for me and I loved it. My girls are PB crazy too, so they loved it as well!
Peanut Butter Play dough
1 cup peanut butter
2 T honey
2/3 cup of powdered milk
Mix and play (and eat!) Store in a sandwich bag!